Here is a new batch of Phage Tapes along with some sale items and more copies of a sold out release.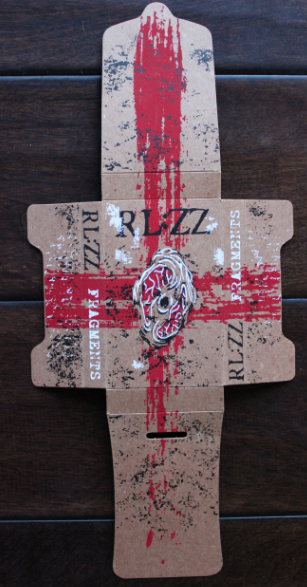 PT:182
RL:ZZ "Fragments" c23
RL:ZZ is an ambient project of Andy Lippoldt (Persistence in Mourning) and Ryan Lipynsky (Unearthly Trance). As far as I know their previous releases were both on Lippoldts Witch Sermon label. RL:ZZ uses a wide range of sounds including piano, synth, guitar, voices and what sounds like field recordings to compose ominous tracks of ambient bleakness.
Packaging is a 3 color screen printed brad pack designed by Simon Clark
Edition of 100 copies
PT:183
Hassokk "Betono Gniauztai" c30
Hassokk is a more dark ambient droney side project of Lithuanian project Body Cargo (formally Clo Goelach). Betono Gniauztai is meant to be the second installation for the project following a yet unreleased LP. The material in this tape is a slow moving creepy industrial soundscape with sections of harshness that don't become too overpowering. The B side is my favorite on the release with sounds of hollow wind giving me the impression the listener is stuck in some wasteland feeling the despair of uncertainty.
Packaged in a 2 color screen printed brad pack designed by
Edition of 100 copies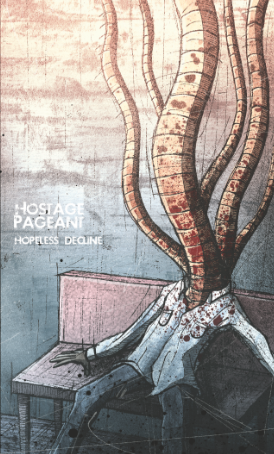 PT:185
Hostage Pageant "Hopeless Decline" c20
Hostage Pageant has been crushing peoples brains for a few years now with his brutal harsh noise. This cassette is full of gritty crunch, quick changes, feedback and thick noise with the intent to make you feel uncomfortable. I had the chance to see him play live a few days ago and it is something not to be missed. If your into harsh shit check this dude out if you haven't, you wont be disappointed.
Cover designed by Simon Clark
Edition of 96 copies.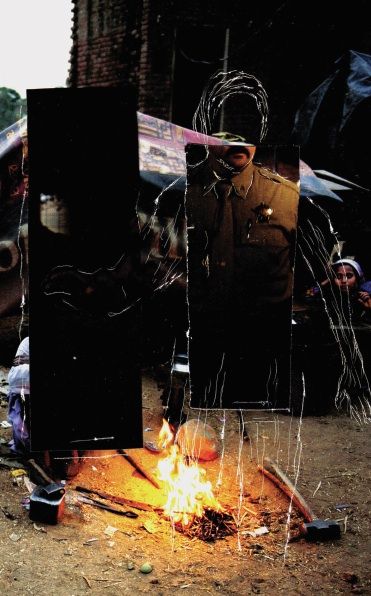 PT:192
Plague Mother "Silent Exit" c20
Plague Mother (formally Arsonists Prayer) is a hard project to lump into any one category. His material is definitely harsh noise but the composition at times points to a more industrial background. The four tracks that make up this c20 are definitely harsh noise but there are sections of tension restraint that set the tracks apart from straight up harsh blasting. Plague Mother was recently on tour with Hostage Pageant and good god what a combo that was!
Cover designed by Wyatt Howland
Edition of 100 copies.
Check out samples on the sound sample tab
each new tape is 7$ in NA and 9$ worldwide
all 4 are 20$ in NA and 29$ worldwide.
paypal: phagetapes@yahoo.com
I also want to have a sale to clear some room for some upcoming stuff and generate some funds.
So here are the sale items. Im not sure how long I will keep the sale going so if you want any of this stuff pick it up soon.
Prices are postage paid in the US. Contact for Worldwide. You must buy at least two items or I loose my ass on shipping.
PT167 Francisco Lopez With GX Jupitter-Larsen 10" 13$
PT134 Priest In Shit "Icon/ Effigy" 7" 5$
PT110 John Wiese "Mixed Metaphor b/w Into A Bad Way" 7" 5$
PT184 Blue Sabbath Black Cheer + Pig Heart Transplant CD 5$
PT178 Das Synthetische Mischgewebe "Hapax (legomenon)" CD 5$
PT175 Z'EV and Bob Bellerue "felt, if not seen" CD 5$
PT160 Minotaur "Obsession" CD 5$
PT152 Barrikad "We Make Nihilists Smile Again" CD 5$
PT145 Scumearth and K.K. Null split and collab CD (co-released with RONF) 5$
PT140 K2 "Abdominal Electricity" CD 5$
PT136 Richard Ramirez/ Black Leather Jesus "Scrapyard" reissue CD (co-released with RONF) 5$
PT133 Kazumoto Endo + Kazuma Kubota "Switches and Knobs" CD 5$
PT113 The Kali Ensemble CD (co-released with Turgid Animal) 5$
PT158 Friends With Corpses "Don't Turn On The Lights" pro-dubbed c30 4$
PT155 Pollutive Static "Burning Faith" pro-dubbed c20 4$
PT143 Koufar + Skin Graft pro dubbed c30
4$
PT138 Brandkommando" NOW!" pro-dubbed c56 4$
PT130 Bonesfield/ Facialmess "Sabotage" pro-dubbed c52 4$
PT124 Regard Us Sadly c20 4$
PT122 Alisa-Yhtye pro dubbed c46 4$
PT121 Regosphere "Gutter Swarm" pro dubbed c60 4$
PT120 Fear Konstruktor and Defektro split and collab pro dubbed c39 4$
PT112 Praying For Oblivion/ N.Strahl.N "Aktion T4" pro-dubbed c33 4$
PT106 Screwtape/Mixturizer pro-dubbed c40 4$
PT105 Content Nullity "Absolute Dread" pro-dubbed c30 4$
Haters T shirt Sizes S, L, XL or XXL 8$
Phage Tapes T shirt Sizes S, M, L or XL 8$
K2 T shirt Sizes S, M, L or XL 8$
I also have a few more copies of the sold out MB "Industrial Murder/ Menstrual Bleeding" CD. They are 12$ ppd in the US if anyone needs a copy.